Haunted Heights Trail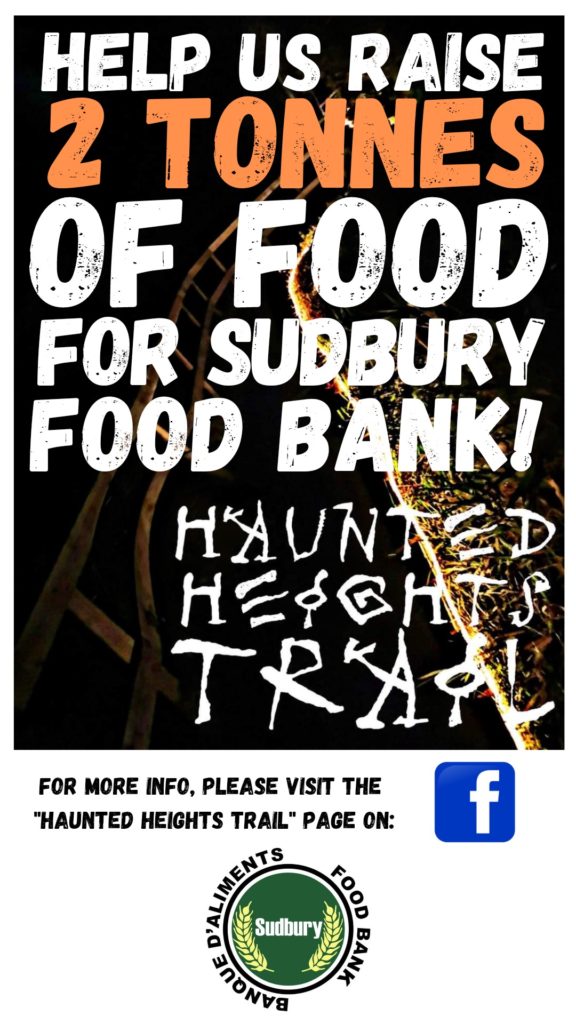 The Haunted Heights Trail is back with organizers again collecting for Sudbury Food Bank. The McCrea Heights attraction opens Sept. 30 and runs throughout the Halloween season. We thank the organizers and their crew/volunteers for their continuing support of the BDSFB's efforts to feed our regions hungry. If you're looking for a bit of Halloween fun appropriate for adults or families with older kids, check out the Haunted Heights Trail at 1764 Kathleen St. in McCrea Heights. Not only is it a fun family time to visit; their volunteers love doing it! It's an important event to BDSFB's efforts at a difficult time of the year.
The 800-foot trail officially opens Friday, Sept. 30, and runs 8-11 p.m. The trail runs Fridays and Saturdays throughout October from 8-11 p.m. It also runs Sunday, Oct. 30 from 7-10 p.m. Admission is $10, or $7 with two non-perishable food items (human or pet). The organizers are trying to raise two tons of food for the Sudbury Food Bank.
The trail is open to those eight years of age and older. Anyone under the age of 16 must be accompanied by an adult. Dogs are not permitted. Due to the terrain, the trail is not wheelchair accessible.
https://www.facebook.com/watch/?v=849312632438869&ref=external