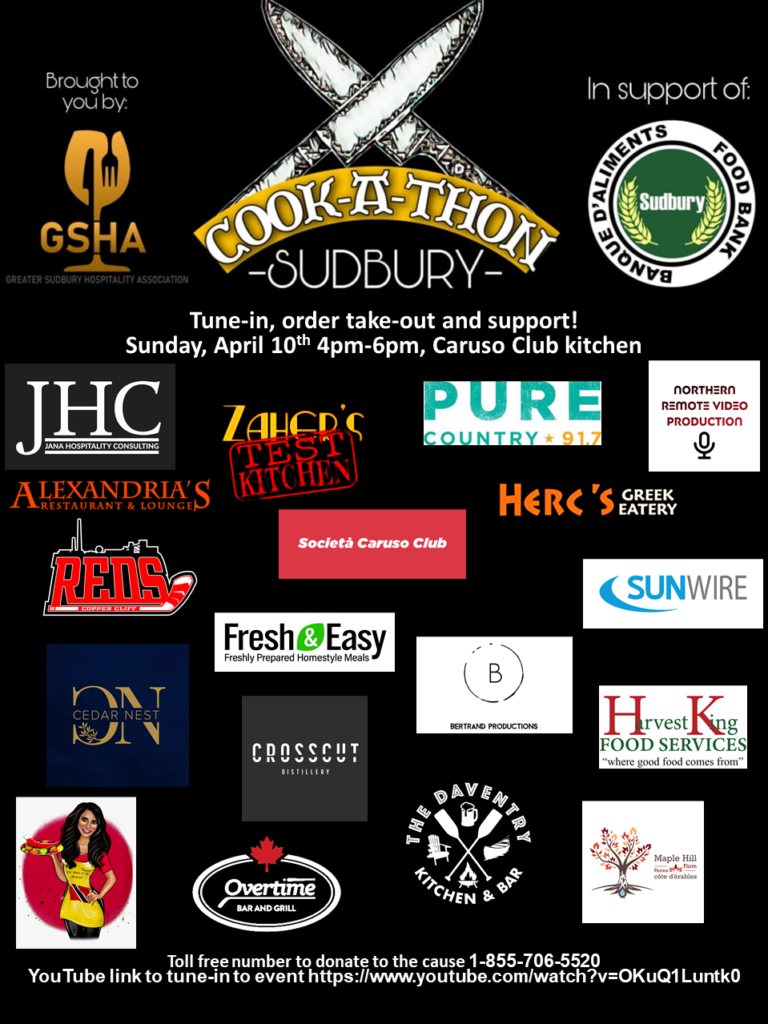 On Sunday, April 10th Cook-A-Thon in partnership with the Banque d'aliments Sudbury Food Bank will be cooking up a storm, hosting a cooking show with Josh & Coop from Sudbury's Pure Countty 91.7 and all in support of the BDSFB and it's mission to Feed Hunger and Fight Hope.
On April 10th from 4pm – 6pm you can Tune-In, Order Take-Out & Support the Sudbury Food Bank.
The Cooking Show will be broadcast on YouTube and you can find it here and bookmark it for or set a reminder on YouTube for the 10th.
On April 10th our collection of some of Sudbury's finest cooks will be gathering at the Caruso Club (385 Haig Street) and from 4 – 6pm you'll be able to call in your orders/donations at 1-855-706-5520 and come pick-up your take out!
You can also preorder one of the fantastic meal options by using one of the below portals that matches your desired chef/meal. (When you select your ticket and "checkout" on the site there is a place to indicate your desired pick-up time.)
Chef Gus Boudouris ~ Herc's Greek Eatery
Dish: Herc's Greek Feast with one skewer of tender chicken cubes specially marinated and charbroiled, Gyro Meat (ground beef and lamb roasted on the open fire) and Mousaka (layered eggplants, zucchini, ground beef and potatoes topped with béchamel sauce and baked to perfection) along with Herc's famous lemon roasted potatoes and parboiled rice. And, of course, lots of homemade tzatziki sauce. $29.64
Chef Sue Peters & Sol Johnson ~ Cedar Nest
Dish: An herb crusted rack of lamb, pistachio and saffron polenta, glazed carrots and a vanilla and honey Marsala reduction. $48.76
Chef Deke Zaher ~ Zaher's Test Kitchen
Dish: The Glass Casket.
The stage is set for Winter's end in this mysterious 12 x 12 black box and well represents the Cook-A-Thon theme this year being: "The Rise Of Spring"! Dressed with fresh flowers and greenery atop a bed of ice, this box hosts 5 custom-made, fusion seafood delicacies that have been designed specifically for this special event:
1. Truffle-poached lobster tail Sashimi/charred pear.
2. Harissa-fried crawfish, smoked.
3. Scallop Ceviche in mandarin, lime + sumac.
4. Chilled curried-octopus/fennel salad.
5. Center stage: Dressed x-large oyster/Crosscut shallot-pepper Vodka sauce.
Though shareable, this experience is best suited for one person. We hope you love this uniquely crafted experience that we will be offering! $160.15
Finally we have one more offering that will be available only for preorder on April 8th instead of the 10th.
*Chef Areeda Fuller of De Spice is Right is unable to participate in the live Cook-A-Thon but will be offering her Caribbean style vegetable fried rice, curry chicken, mango chutney, hot sauce and garden salad with creamy garlic dressing. It is available for preorder here and can be picked up at the Caruso Club Friday, April the 8th between 4 and 6 pm for $30.72.
Again, please note that all of our chef's creations except Chef Areeda Fulller's are available for take-out during the live Cook-A-Thon on April 10th between 4 and 6pm. Chef Fuller's Caribbean dish will be available for take out on April 8th.
The BDSFB would like to thank all the chef's, their teams, and all of the events sponsors for making this unique, interesting and wonderfully delish way to support the Sudbury Food Bank possible. Thank you to: Harvest King Food Services, Maple Hill Farm, The Daventry Kitchen & Bar, Jana Hospitality Consulting, Copper Cliff Reds, Sunwire, Northern Remote Video Production, Bianca Charrette, Bertrand Productions, Bernie Bertrand, Caruso Club – Società Caruso, Crosscut Distillery, Fresheasysudbury, Overtime Sports Bar and Grill, and Alexandria's Restaurant.